Images of Projects in Transition
Project Overview
Project Case Studies
Capturing a site in transition is a reflective way of observing the subtle changes as a site moves towards a more stable and sustainable future. Observe these changes in a series of selected photos capturing some of our projects.
Mangrove & Inter-tidal Rehabilitation
Project Overview
Coomera Rivers
A new residential development located on the estuary of the Coomera River is being transformed to incorporate a 50m wide conservation zone that will enhance and protect sensitive inter-tidal veg communities. Restoration works are staged around the construction program to allow transplanting and propagating of key species under permit.
Open Space Regeneration & Reconstruction
Project Overview
Stone Creek
This residential estate on the Gold Coast has protected and rehabilitated significant portions of riparian vegetation and integrated opportunities for nature based recreation. Changes to site drainage during civil construction had consequently affected some local flows through bushland. Bushcare Services re-established a robust drainage line with rock construction and check weirs whilst protecting native trees and transplanting affected vegetation. Seasonal flows are now mitigated and the area is a natural asset.
Project Overview
Yarabilba
Bushcare Services has assisted our client Lendlease with the rehabilitation and linking of a remnant fauna corridor in the first precincts of the Yarabilba residential development. This new residential estate was a historical pine plantation that has retained many areas of high conservation significance – now protected and enhanced. Our work includes invasive weed control, planting 15,000 native plants, drainage and erosion control works to the waterway and installing nesting boxes.
Comparing regeneration using mechanical clearing
Project Overview
London Creek | Bushland Regeneration trail
A trial restoration project at London Creek Peachester, was commissioned by the Sunshine Coast Regional Council, with on-ground works undertaken by Bushcare Services. The project was documented as a methodology to explore the effects of treating Lantana with a mechanical posi-trac forest mower compared to a similar plot cleared using traditional bush regeneration. Both sites were then maintained and reported by Bushcare Services teams with a view of comparing the post clearing level of native regeneration performance.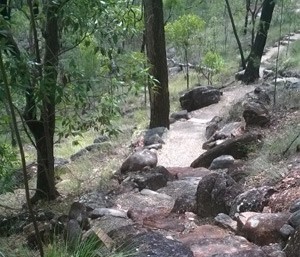 Walking Track Re-construction
Project Overview
Karawatha Forest Park | Walking Track Re-construction
Bushcare Services construction team have upgraded a number of walking tracks in this large bushland park south of Brisbane. Works involved re-grading and surfacing degraded sections of the tracks, installing drainage and installing treads. Check out the before and after photos and the quality workmanship.
Habitat Box Installations
Project Overview
Woodlands Residential Estate | Habitat boxes
Localised land clearing to make way for housing construction often results in some habitat loss and disruption for arboreal mammals and nesting hollows for birds – often creating high demand for nesting resources. A network of wildlife corridors was preserved and rehabilitated at Woodlands estate to facilitate the free movement of fauna. 42 habitat boxes were constructed and installed by Bushcare Services and located throughout these vegetation corridors. Bushcare Services monitored and reported on the occupancy of these boxes including servicing anywhere pest species or insects caused damage. More than 80% of the boxes had regular occupancy after 6 months including gliders, possums and a variety of parrots – observed later to be raising young.
Major Environmental Offset
Project Overview
Greenwood Lake | Vegetation Offset
Bushcare Services was commissioned by the Logan Water Alliance to undertake 3 phases of the Greenwood Lakes Reserve rehabilitation program in conjunction with Logan City Council. The 43 hectare bushland reserve located on Oxley Creek has been transformed as a new asset in the Flinders to Greenbank – Karrawatha conservation corridor.
The large-scale offset project targets regrowth vegetation in a reserve that was previously degraded by sandmining – so a perfect candidate for this offset
Project Overview
Charlie's Crossing
Continual bank de-stabilisation on this stretch of the Coomera River has resulted from changes in upstream land usage. Major flooding events have since undercut these sandy and dispersive soils – which now requires an adaptive in-stream restoration approach.